Tutorials
The New FCC Order
For information about One Touch Make Ready (OTMR), Self-Help, and Overlashing, please visit PPL's Pole Attachment Services page directly.
PPL Poles, Attachments, and Specifications
Welcome to Part One of our tutorial series. This video will introduce you to some basic information necessary to successfully complete A PPL new attachment application.
WHAT IS A UTILITY POLE
A utility pole is normally comprised of two sections: the top section is the power space, which may contain primary power cables. The bottom section is the communications space which often contains Telephone, Cable TV and Fiber Optic cable attachments. Due to safety concerns, only Power companies are allowed to attach in the power space. The communications space, however, can be used by any approved attacher to install cables, lighting, banners, or traffic cameras. Street lighting can be attached in either the Power or Communication space.
PPL RULES FOR ATTACHMENT
PPL has a series of rules and guidelines that must be followed as your new attachment project progresses. Here are a few to keep in mind:
GUYING - PPL's requirements for the proper guying plan for your project
MAKE READY (COSTS) – The costs associated with your project
PPL/NESC - Clearance requirements according to PPL and NESC specifications
GUYING
Each time a cable is attached to a pole it adds lateral tension, which can add stress to the pole. A proper guying plan ensures that the tension of the pole line is maintained safely, preventing any single pole from being overly stressed. For more information about proper guying plans, refer to our guying tutorial.
MAKE READY
Before a new attachment application can be approved Make Ready must be assessed. Make Ready is the term used for the process in which poles are prepared for a new attachment. This may mean other attachments will need to be moved up or down. If the pole is deemed too small it will be replaced with a taller pole so that there is room for new attachments. The Make Ready process goes through five basic steps: Submission, Data Collection, Make Ready Assessment, Utility Coordination and Make Ready Execution - this process generally takes 4-5 months. The costs associated with the Make Ready process will vary depending on the complexity of your project. Although Make Ready costs are a one time expense, a recurring fee is charged for attaching to a PPL pole.
NESC AND PPL CLEARANCE REQUIREMENTS
The NESC (National Electric Safety Code) has defined a national standard for attaching to utility poles. Any addition to a Utility pole will be subject to clearance requirements in relation to other attachments as well as ground clearance over roads, driveways, bridges, etc. A condensed, PPL specific version of these guidelines, can be found here: PPL NESC Guidelines
NEXT STEPS
Take these next steps to attach to a PPL pole:
Define a clear path from point A to point B of your project.
Record tag information for each pole in your project, you are required to apply to PPL for all poles along the path of your project that PPL is attached to. Because PPL may not be attached to all poles along your path, you may need to coordinate with other Utility Companies as well.
Identify the poles along that path that you will need to attach to - including those required for guying
Once you have gathered all of this information, visit this link to begin your application. If you are unsure of how to use the new application process please refer to the next Tutorial video in the series.
Show More..
Creating An Account
Welcome to Part Two of our Tutorial Series. This video will walk you through the new PPL Application website and demonstrate how to create an account so that you can begin your Attachment Application process.
CREATE A NEW ACCOUNT
Click sign in to create your new account. Create a new account by filling out the required fields of the Create Account form. If your company is already registered please select the name from the Company drop down tab at the bottom of the form. To do this, simply begin typing the name of your company into the drop down menu. If you are unable to find your company, enter the full name of your company and it will be created in the system.
Proceed by clicking "Create Account" at the bottom of the page. To attach your facilities to a PPL pole, you need to have an attachment agreement in place with PPL. To learn more, click "Pursue an Attachment Agreement" and start the necessary paperwork. If you are representing another company, please make sure they have an attachment agreement in place. An email will be sent to you for verification, once your email address has been verified you will be ready to login into the system using the email and password you provided.
CREATE A NEW ATTACHMENT APPLICATION
Now that you have successfully created an account you can now Create a New Attachment Application, and submit your job for review! Please visit Part 3 in our tutorial series "Create a New Attachment Application."
Show More..
Creating An Application
Welcome to Part Three of our Tutorial Series "How To Create An Application." In this video we will walk you through the process of Creating a New Attachment Application.
MY APPLICATIONS PAGE
Begin by opening the PPL Application website and going to the My Applications page. The My Applications page is the hub of your online PPL experience. From here you can Create a new application, check on the status of any previously submitted applications or cancel an existing application. The list of your Applications can be searched and filtered by Name, Municipality, Date, Pole Count or Status.
CREATE A NEW ATTACHMENT APPLICATION
In order to create a new application click on the Create New Application button, fill in the name of the Attaching Company, the Job Name and the tag number for the "Take Off Pole." The Take Off Pole connects your new project to the existing network. If there are any special considerations about this job please write them in the Job Notes field.
To complete the Application form, begin by entering the pole number of the first pole after your Take Off pole. If the pole number that you enter is not recognized by the PPL database a Yellow flag will appear indicating that you need to enter the correct number. These yellow flags will appear either when a common entry mistake is made or to point out missing information that is required to finish your application. If the tag number for one of your poles is missing, indicate this with an Underscore.
Once you have entered the correct pole number, select the appropriate action: Attach, Remove or Overlash from the drop tab directly to the right .Next, select the type of attachment: Bolted Cable, Service Drop, Cabinet or Guy Pole from the drop tab to the right.
The final field, to the right of the page, is a space for optional pole notes. Examples of things that should be indicated in this space include: any in-progress pole replacements, a shift to underground cable, any non-PPL tag numbers that appear on the pole from other utility companies, or any other relevant information. Remember, the more clarity you provide in your application the smoother the process will go.
If at any point you need to double check your information or move to a different project before finishing your current application you can simply click the Save button in the upper right hand corner. This will save the application you are working on as a draft. To access it at a later time, go to the My Applications tab and select it from the list.
SUBMITTING A NEW ATTACHMENT APPLICATION
After you have entered data for all of the PPL attached poles in your project, resolved any Yellow Flags, and attached all relevant documents such as maps and guying information, please click the Submit Application button at the bottom of the page. If you are submitting on someone else's behalf the submission will be designated as "pending" until the submission is approved. You can be pre-approved to submit for another company or an email can be automatically sent to the representative with an approval link so that they can review and approve the New Attachment Application. Congratulations, you have submitted your application. Following this, you will be able to find your new application under the My Applications tab, where its status will have been set to "Submitted."
Show More..
Including a Guying Plan
A guying plan allows PPL to properly assess pole integrity for poles in your application.
WHAT IS A GUYING PLAN
A guying plan shows how you are going to compensate for the addition stress your cable will put on the poles.
WHAT SHOULD BE IN THE GUYING PLAN
A guying plan must be attached to any bolted cable application in order for PPL to accept the application as being completed. The guying plan needs to show at least the items below.
The take-off pole or location from which the proposed cable attachment will begin (this could be an existing attachment on a PPL pole, an attachment on a foreign utility pole, or a non-pole attachment point such as a building)
Anchor guys (Head guys and Side guys)
Pole to pole guys
Proposed cable spans (full tension spans and slack spans)
The final point of attachment or end location of the proposed build (this could be a PPL pole, a foreign utility pole, or a non-pole attachment point such as a building).
Download this sample map showing standard symbols for the above items. Attaching companies may use different symbols, but should include a legend.
Show More..
Banner Applications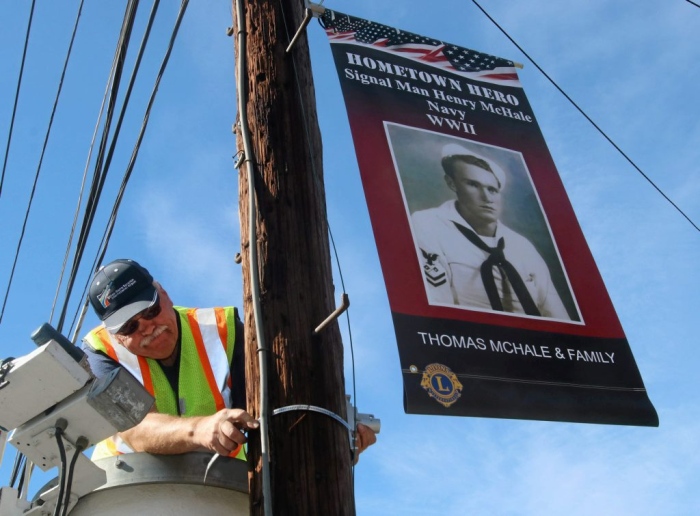 WHAT DO I NEED TO KNOW
We're so excited to get your banners up! Before that can happen, let's quickly discuss some of the most important things to know before attaching vertical or cross-street banners.
The biggest issue will be finding the right poles to attach your banners to.
Some poles are going to be out of the question for safety reasons. First, it's important to make sure that a pole is strong enough to handle new attachments You can see a pole's thickness and height in the attachment portal map when you hover over a pole. The first number is the height, followed by the thickness (class).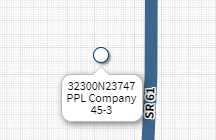 Choose a pole class 1, 2, or 3. Classes 4-7 will require additional engineering costs.
The pole will also require adequate clearance from the communications cables, power space and from vehicle/pedestrian traffic.
Finally, there are pieces of equipment called U-guards that will prevent the installation of a banner. They look like this: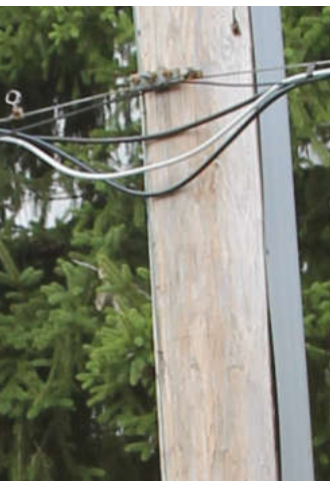 If your organization can provide us four weeks of notice, we will perform an engineering assessment of 25 poles for your municipality and forgive the charges. Because engineering on these poles will only need to be done once, each year you can add 25 more poles to your approved list of banner attachments!
Unfortunately, not every pole you apply for (even following the suggestions above) will be approved.
If you need an expedited survey, or require assessment of additional poles, we can do so using our standard rate.
We cannot approve banners on non-PPL poles. If you need to attach to a pole owned by a tel company, you will need to apply directly through their respective joint use department.
For more detailed specifications, check out PPL's banner requirements here .
Show More..